Amsterdam Art Gallery to Host Provocative Photography Exhibit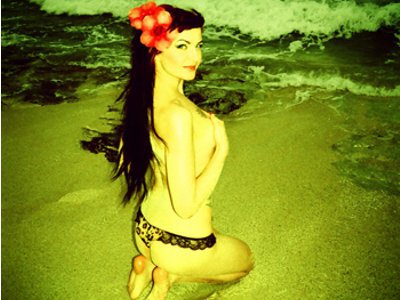 YNOT EUROPE – La Galerie Provocatrice ("Sexy Art Gallery") will present a solo exhibition of photography by Los Angeles- and New York-based artist Mark Miremont Nov. 12 through Jan. 31. The exhibition is part of the world premiere of Miremont's The Resurrection of Beauty, a new DVD containing short films featuring Dita Von Teese, Puma Swede and many others. The still photographs were created during filming.
The DVD will be screened Nov. 13 in Amsterdam during the Wasteland party, considered one of the world's most decadent events.
The gallery will host an opening reception from 19:00-23:00 Nov. 12 inside the Erotic Museum of Amsterdam, located at Achterburgwal 54 in the city. Miremont is expected to attend the reception.
Born in Madrid, Miremont studied philosophy and film at Harvard and the University of California at Los Angeles. His first creative works comprised hundreds of cryptic aphorisms spray-painted on the walls of buildings in downtown LA and the Mission District in San before graffiti was held in esteem in the art world. This culminated in a 60-foot-long piece on the side of The Museum of Contemporary Art's Temporary Contemporary in Los Angeles, alongside the works of other "outsider artists" like Joey Krebs and Robbie Conal.
Running afoul of the law with his early work led Miremont to turn to film as a creative outlet, since it also allowed him to explore philosophical ideas in a visual way. Before entering UCLA's Graduate School of Film, he began directing music videos. His first was for Soundgarden's song "Flower," which he described as a cross between the sensibilities of the punk rock 'zine Flipside and Jean Cocteau's Le Sang D'Un Poete. Airing regularly on MTV, the video signaled an opening salvo in the grunge movement.
Miremont began making experimental films that screened with works by Warhol and Brakhage. These, and his work in music video, caught the attention of Robert Redford's Sundance Institute while Miremont was in his first year of film school, and he was invited to develop his first script, The White Ocean, at the prestigious June Filmmaker's Lab during the same year Quentin Tarantino developed Reservoir Dogs.
A simple request to shoot photos for an album led Miremont to pursue the work for which he perhaps is best known: wildly original and perfectly composed color photography. His brash, sensual, figurative work largely is responsible for the resurgence of the pinup, and he counts as fans not only flocks of tattooed suicide girls, but also many of the original pinups like the late Bettie Page and living legend Mamie Van Doren.
"Mark is blazing a trail into the future of photography," Van Doren said.
La Galerie Provocatrice is a new concept catering to a niche market that enjoys a combination of art and erotica. The gallery, part of the Erotic Museum of Amsterdam, is attempting to establish a culture for people who consider sexuality and art significant parts of their lives.
For more about the gallery, visit SexyArtGallery.com.
Miremont's manifesto is available on his website, MarkMiremont.com.
Comments are closed.