Ad Network: 'Mobile Continues to Grow'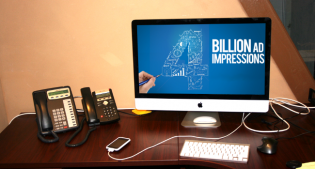 BARCELONA, Spain – The mobile market continues to grow, providing more opportunities for adult advertisers and publishers to work together through large traffic networks.
At Barcelona-based ExoClick, for example, mobile traffic now accounts for 27 percent of all ad impressions, which surpassed four billion daily in May May. By comparison, mobile traffic composed only 19.3 percent of the three billion daily impressions the company achieved in August 2013, a spokesperson said.
Founder and Chief Executive Officer Benjamin Fonzé said he sees the mobile realm as a key business driver. The company recently added six countries — including the UK, Russia and South Africa — to its mobile carrier targeting, bringing the total number of countries from which ExoClick moves traffic to 24.
"Reaching four billion daily ad impressions is a fantastic milestone for us," Fonzé said. "Our sales team is one of the strongest in the business and is growing fast. With over 16 different nationalities on board, we can provide excellent local market knowledge for our clients.
"We continue to improve our platform and interface with a strong emphasis on 'big data,' which will help us launch further advanced features," he added. "We are well on the way to reaching five billion impressions as we continue to aggressively grow our market share."
Launched in 2006, ExoClick's proprietary global ad technology allows advertisers to target adult, gaming and entertainment segments via the web and mobile platforms.
For more information, visit ExoClick.com.
Comments are closed.