Two AdultEx Awards for pjur!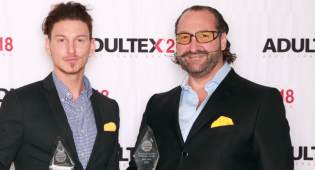 Wasserbilli, Luxembourg – This year, the pjur group can celebrate two AdultEx awards from Australia at the same time! The annual in-house trade fair put on by the wholesaler Calvista in Port Douglas, Queensland, saw the products in the pjur love range awarded 'Best Lubrication or Product Range' and the pjur med products awarded 'Best Sexual Health & Wellness Range'. Alexander Giebel, who attended the trade fair alongside pjur Sales Manager Marius Weis, was delighted with the awards: 'Thank you very much for these awards! Once again, they demonstrate that the high level of investment we put into our products every day really pays off.'
The pjur med product line was also one of the highlights of the pjur exhibition stand, as the products – which are aimed at health-conscious consumers – will from now on be available in Australia exclusively from Calvista. 'We are thrilled about this exclusive contract as current demand for the pjur med products is higher than ever. More and more customers are specifically asking for personal lubricants that are particularly gentle on the skin or contain allergy-friendly ingredients. With pjur med, we meet this demand perfectly. Giving the award to the pjur group for the med range was, therefore, the logical consequence of these trend-setting products being developed,' explained Roger Sheldon, CEO of Calvista.
More than 35 manufacturers attended the in-house trade fair in Australia this year. pjur wowed visitors, including with another prize draw—this time with two Apple Watches up for grabs. The trade fair as a whole was very successful for pjur: 'The feedback we got on our stand and the products was exceptional. We are very grateful to our partner Calvista for organizing this trade fair, and we're looking forward to next year already,' said Alexander Giebel.
Comments are closed.