Amber Jayne stars in DDFNetworks "EroticVisionVR"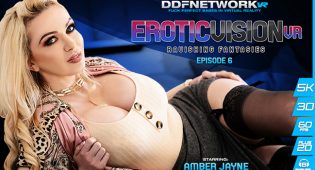 Have you ever had a hot Milf fantasy? Ever wondered what it would be like to come across a super sexy Milf that is so horny that she wants nothing more than for you to ravage her pronto? Well, get ready for this fantasy come true with DDFNetwork VR's latest virtual reality premium porn series release of "EroticVisionVR" Episode 6 starring one of UK's hottest Milfs Amber Jayne. In this immersive VR Porn experience you've lost your dog and end up at the glamour pornstar's home. Her husband is away and she hasn't been sexually satisfied in quite some time, so while she helps you forget about losing your dog with her mouth, hands, and mouthwatering 34DD's, you take on the task of giving her the best hardcore sex ever.
You will get the most close to life experience with the 5K 60fps virtual reality version, taking control of whether it's the busty bombshell's big blue eyes looking up at you from your crotch or her gigantic cleavage that you want to focus on, or getting in between her creamy thighs. And to take things up a more realistic notch, you get Binaural Sound and hear the blonde babe dirty talking with her sultry British accent as if right in your ears while she rides you rodeo style.
Amber Jayne is a seasoned veteran in the adult industry having started over 11 years ago in 2008. Now at the age of 40 years, she's well into the Milf category and rocking it not only in her home country, but also across the pond and beyond. Having graduated from Cambridge university with a Master's degree in psychology, the former medical secretary is living proof that beauties have brains too. She found her life a little too tame for her liking, decided to give porn a try, and hasn't looked back since. And her fans are certainly thankful for all her amazing XXX work with adult industry heavy hitters such as Brazzers, Marc Dorcel, Rocco Siffredi, Penthouse, Hustler, and DDF Network in scenes ranging from solo, hardcore, lesbian, blowjob, interracial, stepmom, threesome, and busty. She's also a multi award winner having garnered the "Men Only Girl of the Year Award 2016" and "Club International Girl of the Year 2017".
Now the top shelf model and adult actress is making her move to virtual reality to give her fans the most up close and personal experience with her and her famous cleavage. Are you up for the challenge to satisfy the virtual reality vixen yourself in 3D? Or if you prefer to watch the voluptuous Brit's curvy ass as she takes it doggy style from another, you can check out the 2D voyeur format on DDF's hardcore site Hands on Hardcore instead. Amber Jayne, any way you want her, courtesy of DDF Network.
Comments are closed.