Angel Long Releases New Ep of Podcast with 1st Couple as Guests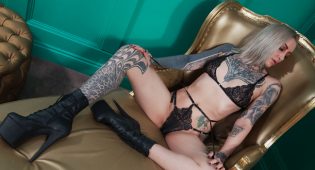 Award-winning industry veteran performer/creator and uber-popular podcast host Angel Long recently made FeedSpot's 30 Best Podcasts You Must Follow in 2022 list and has reached 58 episodes of The Angel Long Podcast.
The Angel Long Podcast is a true original. With 20 years in the industry, Angel brings her experience and industry connections to her show. As a result, listeners get to listen to highly in-depth interviews (from one to two hours) with a who's who of adult stars, industry moguls, and adult company executives. And unlike other interviewers, Angel doesn't ask the same tired questions—she asks what the fans and her loyal listeners really want to know. Plus, there are no topics or conversations off the table.
And her most recent episode features her first porn couple on the podcast, Jess West and Demetri. Angel and her guests cover a lot of ground, including life as a couple and living in the UK as porn stars. The veteran couple chat with Angel about how the industry has changed over the last 15 to 20 years, going from shooting professional porn with studios to shooting their own content, how they got into adult, rules in their relationship for Demetri shooting with other women, Jess' mainstream series for Channel 5, TikTok and how it affects their work, Sims Racing, and much more.
Recent guests have included Karen Fisher, Cherie DeVille, Scarlett Jones, and Avery Jane. And past guests have included Samantha Bentley, Keiran Lee, Joanna Angel, Jane Wilde, Brooklyn Blue, Alexis Fawx, Pascal White, Dante Colle, Emma Rose, and Nathan Bronson.
"I'm amazed at the guests we've been able to score, and the worldwide fans and listeners turning in has been phenomenal. I'm even thinking about having non-adult guests on in the future and starting a YouTube Channel so that people can see the video version of the interviews. Thanks to everyone who listens, and make sure to rate us and leave a review on whatever platform(s) you listen on," says Angel Long.
New episodes are posted every Sunday and available on Spotify, Apple Podcasts, Player.fm, Audible, Amazon Music, and other platforms.
To interview Angel Long for your site, publication, or show, contact Erika Icon of The Rub PR at erika@therubor.com.
Comments are closed.