Apolonia Lapiedra Shocks World with Release of Kiiroo's Newest Interactive 'Feel Stars'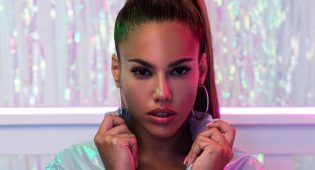 Spanish bombshell Apolonia Lapiedra rocks Kiiroo and the world with her 'Feel Stars' personalized stroker sleeve! Apolonia Lapiedra is one of the coveted models whose texturized sleeves brilliantly recreate a warm, welcoming orifice that interactively strokes in perfect synchronicity with the user to mimic a real-life visual and tactile sensation that takes excitement to unimagined heights.
"I want to thank everyone at Kiiroo for their hard work and dedication to my 'Feel Stars' product. My fans responded, and I am not only excited at how well it sold, but incredibly happy to let my fans know if they missed out, Kiiroo rushed to make sure they were back in stock, immediately."
The device's custom-made inner canals, bumps and ridges are consciously designed by Kiiroo's talented craftsmen to perfectly accommodate adventurous KEON users in bringing to life the most realistic and authentic personal encounters possible.
'Feel Stars' is based on the intimate molds of some of the world's most tantalizing models, the Feel Stars – created specifically to support the brand's bold new KEON automated pleasure device. "Kiiroo is setting the standard for the future of sex tech with its innovative 'Feel Star' collection with KEON, and I could not be more excited to be a part of it," said Lapiedra of the immersive virtual experience that follows an array of eye-popping 3D content alongside the tactile stroker. "Now you can feel me as if I am right there alone with you and only you!"
"Selling out of Apolonia's stroker after just a few weeks is a big Thank You to Apolonia and the entire Kiiroo team, who worked so hard together to give her Fans the best quality experience," said Kiiroo CEO Toon Timmermans "Feeling Apolonia in action is truly a one-of-a-kind experience and I am thrilled that so many people came, saw and bought her stroker."
Comments are closed.