The Awards Ceremony Has Come to an End!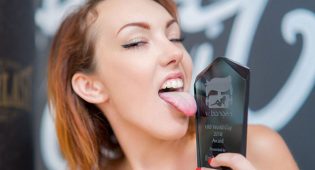 Here, at VRBangers.com, we strongly believe that actors and actresses that make their viewers satisfied deserve the best. Since Emily gave our fans from all over the world a lot of fun and pleasure, we were more than happy to crown her epic skill and provide her with a high-quality trophy. The reward has been personally handed over to Emily by the CEO of VR Bangers, Daniel Abramovich, accompanied by Boris Smirnoff, the vice-president of the company and Alex Nash, the producer who worked with her on this VR porn scene. It could not have been done in any other way, as Emily has helped the VR Bangers to create an entirely new tradition and had to be awarded in the most official way possible.
NEW TRADITION? WHAT DO YOU MEAN BY THAT?
Now, when the whole initiative is over and VR Bangers can at last summarize the entire initiative, it is safe to say that this whole cup has been a huge success and should happen again in upcoming years. This was the first, and definitely not the last, member-voting competition based on a sophisticated proprietary voting platform – we plan to continue on creating such events and we have not said the last word just yet.
SO WHAT IS COMING?
More tournaments, more occasions to vote on your favorite VR porn movie, performer, scene, fetish, or maybe even your favorite position in virtual reality; more rewards for our professional VR porn actors and actresses and more viewers-driven initiatives to let both them and our stars enjoy our VR porn in many, many different ways!
On VRBangers.com, VR porn is made not only for the fans, but also with their help, to always make sure that have been listened to and they can enjoy the content in front of their VR headsets!
VR Bangers, as a company, see their members as the most important and intricate part of their success – we literally would not be here if it was not for our fans! We do caters to the audience, not the product, and as long as the number of members of VRB's family will keep on growing, this endless stream of new premium VR porn will never end! Our members asked – we answered, which is another reason why we are #1 favorite brand in the VR adult entertainment. With new customer retention and satisfaction systems put in place, the cooperation with our followers will only get easier – in the effect, hopefully, even greater enhancing the quality of VR Bangers' VR porn content!
Stay tuned for some more amazing events we have up our sleeve. You won't be disappointed – that is a guarantee!
And this is just a taste of the plethora of experiences offered by VR Bangers for their subscribers and affiliates:
● New cutting edge VR technology.
● The ONLY COMPANY to offer VR porn content in 6K resolution.
● Straight, transsexual and homosexual VR porn materials.
● Top-rated pornstars (#1 ranked).
● 360° VR porn videos which sell better than 180° – a FACT.
● Free proprietary VRB App (for all devices).
● Accept all major payment methods, from PayPal to gift cards and cryptocurrencies.
● Weekly updates… (200+ VR videos library and growing).
Comments are closed.