Berlin Casting Call For Pascalssubsluts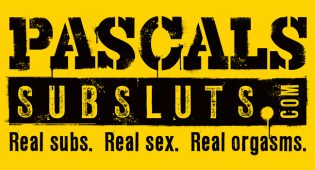 PascalsSubSluts is coming to the kink capitol of Europe, Berlin, Germany; and they've issued a casting call for female models.
Producer Andy Baxter announced: "We're looking for girls, who love being sexually submissive and want to star in our award-winning reality-porn series PascalsSubSluts. We shoot real women, real sex and real orgasms. All of our scenes are unique because all of our SubSluts are unique."
PascalsSubSluts is known for it's no-nonsense rough sex content. Baxter and performer Pascal White accredit the authenticity of their scenes to casting talent that genuinely enjoys Dom/sub play.
Star of the Site Pascal White adds: "It doesn't matter what level of sex you're into either. Everyone's different and one girl's idea of sub play isn't necessarily the same as another's. We always talk to the girls who want to work with us beforehand to find out what turns them on and what turns them off and then tailor their shoots accordingly."
Engagement will include 2 photo shoots, one solo scene and one sex scene. Pre- and post-interviews are also shot, so conversational English is essential. All applicants are encouraged to familiarize themselves with the content over at Pascalssubsuts.
All performers must ensure their health checks will be current at time of shoot, or get tested prior. They must also have valid identification at the time of the shoot.
Any models that will be in Berlin Germany from September 9 though 13, and are interested can submit a package, including pictures, full name, stage name, phone, and a little write up about why they're qualified sent via email to models@pascalssubsluts.com.
In general, models are always encouraged to apply through the PSS website at Pascalssubsluts.
PascalsSubSluts is part of the ARL Cash affiliate network. Affiliates looking to push fresh converting content can join at ARL Cash
Comments are closed.