Beware the Boobs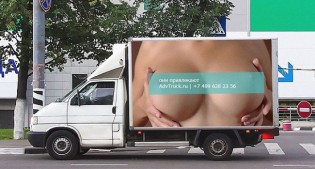 MOSCOW – Box trucks with side-mounted posters bearing the advertising slogan "they attract" are attracting something the marketing company probably didn't intend: traffic accidents.
The posters, complete with large, bare breasts—nipples tactfully concealed by a banner imprinted with the slogan—are blamed for causing 517 traffic accidents.
Moscow's Sarafan Advertising Agency mounted the eye-catching promotional stunt. The company sent 30 boob-emblazoned box trucks onto Moscow's streets, whereupon distracted drivers immediately began running into buildings, landmarks and each other until Moscow police stepped in and impounded the vehicles.
A Sarafan spokesperson said the campaign was meant to prove the effectiveness of truck sides as an advertising medium.
"I was on my way to a business meeting when I saw this truck with a huge photo of breasts on its side go by," motorist Ildar Yuriev told the Daily Mail newspaper. "Then I was hit by the car behind, who said he had been distracted by the truck. It made me late and left my car in the garage and, although I am insured, I am still out of pocket."
To its credit, Sarafan has taken responsibility for the boob-boo.
"In all cases of accidents, the car owners will receive compensation costs from us that aren't covered by their insurance," a Sarafan spokesperson said.
Comments are closed.