Big Bang Theory: Flirt4Free July 4 Promotion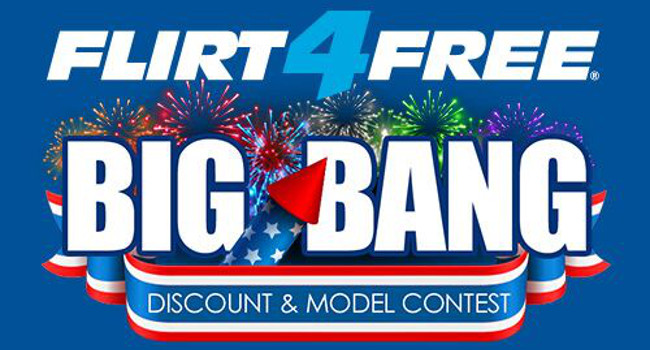 WESTLAKE VILLAGE, Calif. – Flirt4Free will celebrate the U.S.'s 4th of July holiday with a contest offering cam models almost $10,000 in prizes. Consumers can win tens of thousands of dollars in credits to spend on the models of their choice.
The Big Bang Fireworks Contest begins June 30. For five days, models will compete to collect the greatest number of colorful, animated fireworks from the most customers.
"For the past few years, we've celebrated the 4th of July online with our Big Bang promotion, and it has become a favorite way for Flirt4Free models and users to kickstart summer," said Director of Product Jamie Rodriguez. "Our models love that so many people come online for the Big Bang, and they're looking forward to seeing all of their favorite customers in their rooms setting off Fireworks."
During the five-day celebration, customers may buy digital fireworks for their favorite models, all of whom will be vying for the title Fireworks King or Fireworks Queen, plus $1,000 each. Those prizes go to the models who collect the most fireworks overall. In addition, the two models — one male, one female — who collect fireworks from the most customers will win prizes of $1,000 each.
Second-place winners in each contest will receive $500 each, third-place winners will receive $250 each, and fourth- and fifth-place winners will collect $150 and $100, respectively. Sixth- through 10th-place winners will be awarded $50 each.
According to Rodriguez, millions of users reliably log on to F4F during holiday special events to celebrate with their favorite models. Many models host independent contests and raffles and give away free private shows during events like the Big Bang.
"Our models truly show their creative spirits during our holiday-themed promos, and Big Bang is no different," Rodriguez said. "We can't wait to see how many fireworks models collect for their efforts."
The Big Bang celebration begins at midnight June 30th, and customers will be able to buy as many Fireworks for as many models as they want through Tuesday, July 4.
For more information about the July 4 promotion, click here. Affiliates interested in promoting the Flirt4Free network may apply here. Performers and studios interested in broadcasting on the Flirt4Free network may apply here.
Comments are closed.