Be A Bimbo Offering $10 Off Orders for a Little Feedback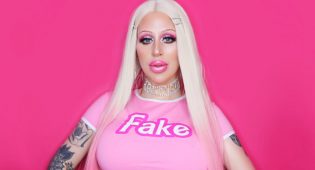 As Be A Bimbo continues to grow along with Alicia Amira's take-back-the-word-bimbo movement, the plastic-proud founder of the company wants to be sure she stays connected with fans with a generous offer.
Be A Bimbo is offering $10 off orders of $50 or more just for sharing their feedback. It's the opportunity to share thoughts with Alicia andsave money! It's as simple as going to SurveyMonkey.com and answering seven questions with multiple choice answers.
Questions cover potential fabrics, styles and possible new products – all of which could be accomplished in a minute even if you're half-asleep. Would yousubscribe to a Bimbo Box that offered bimbo-themed accessories, apparel, and cosmetics each month? Let Alicia know!
"I am really connected on social media and get a lot of great information there," Alicia said. "But not everyone is going to tweet you about what they like and don't like or want and don't want, so this is just another way to get express their opinion and help us stay on track by giving the Bimbo community exactly what they're looking for. And they can save money in the process!"
Be A Bimbo recently unveiled their six new collection in six months, including the instant classic "Bitch" crop tank top, pink with a white "Bitch" emblazoned across the front and a sassy white rim. Check out all the Be A Bimbo offerings at BeABimbo.
Take the Be A Bimbo survey and save $10 on your next order online.
Companies, brands and talent interested in business collaborations with Alicia Amira and Be A Bimbo should email corporate@beabimbo.com.
Comments are closed.