Breasts Give Away Performer in Illicit Church Video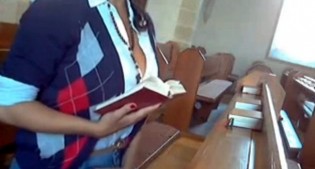 HÖRSCHING, Austria – A 24-year-old amateur adult performer was busted for indecent behavior after her breasts were identified by a tipster who saw them on broadcast TV.
That's right: Someone saw footage of the starlet exposing her boobs — not her face — in a church in Hörsching, Austria, and was able to give police a positive identification.
The "bosom bust" began when video depicting the woman caressing her breasts in a church while holding a Bible and rosary made its way onto the internet. Hörsching police got involved when Diocese of Linz priest Bernhard Pauer reported that his parishioners recognized their church in the scene. No explanation has been tendered as to why the parishioners were watching the video.
Pauer's report led to a portion of the footage appearing as part of a local TV newscast, which resulted in an anonymous tipster recognizing the anonymous breasts.
According to police, the performer — who uses the name Analbabsi, or Babsi for short — has appeared in other "church videos" available online.
The police tracked down Babsi and charged her with desecrating a church and "denigration of religious beliefs of a legally recognized religion." If convicted she could face up to six months in jail or a fine equaling a percentage of the income she normally earns in 360 days.
Religious authorities have decided the church in which the videos were shot will not have to be reconsecrated.
"The presence of God cannot be driven out by sin," Pauer said.
Comments are closed.