CamContacts Celebrates Twenty Years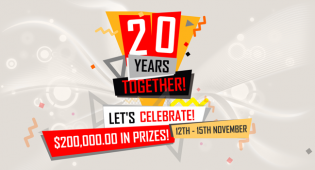 "This is a very special year for us… not only are we are turning 20 but we are proud of our brand-new site design and its cutting-edge technology!" a company rep said.  "We´re excited and we want to share that with our chathosts and viewers by offering a four day event with interactive games and awarding $200,000 in cash and prizes."
The party kicks-off on Thursday, Nov. 12, and continues nonstop through Sunday, Nov. 15.  Chathosts and fans can play "Take Your Pick" and win prizes that include daily awards of $20,000, drawn from the Top 50 daily scores
; $25,000 in 
surprise daily bonus prizes; and a $20,000 grand prize awarded on Monday, Nov. 16.
CamContacts is known for bringing the first mobile video-streaming product to the market in 2006- giving them their motto "Any Time, Any Place, Any Device."  They are also renowned for their friendly and approachable girl-next-door and glamour type cam girls.  "We make connecting the members of our community our top priority," the rep concluded.
Comments are closed.