Clandestine Devices' MIMIC Luxury Adult Toy Picks Up Distribution in UK with ABS Holdings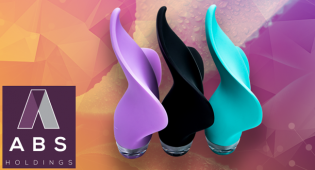 Chatsworth, CA – Clandestine Devices, maker of the MIMIC pleasure vibrator, has just acquired a new distribution deal with U.K.-based erotic wholesaler ABS Holdings.
"ABS Holdings is so excited about our partnership with Clandestine Devices," said Justin Vickers, ABS Holdings' Head of Global Trade Sales. "We're always on the lookout for innovative brands that add a fresh twist to our range, and the Mimic is certainly a unique product that we know our customers will love."
The deal with ABS Holdings is a first for Clandestine Devices throughout the United Kingdom territory, further increasing the opportunity for adult toy connoisseurs to get their hands on the seriously addictive MIMIC.
"The Mimic is an ultra-modern toy for the ultra-modern customer, and we'll be offering it in Black, Seafoam and Lilac," said Vickers. "We can't wait to introduce Clandestine to our portfolio – and we're looking forward to an amazing response and a successful partnership."
In addition to ABS Holdings, Clandestine Devices also distributes the MIMIC in Europe via EDC Wholesale and Eropartner; MIMIC is also available in Australia via AAPD and Excite Logistics, and through select distributors within the United States, such as East Coast News, with more distributors to be announced soon.
The MIMIC is a perfect companion for the adventurous, and the curved, rechargeable vibrator is made of medical grade silicone, waterproof and offers six speeds/intensity levels, eight vibration patterns and 90 minutes of powerful vibes on a single charge.
For more information visit clandestinedevices.com or follow on social media at the following:
Instagram.com/clandestinedevices
Facebook.com/ClandestineDevices
ABOUT CLANDESTINE DEVICES:
Luxury adult toy manufacturer Clandestine Devices is making waves with its first creative innovation, the MIMIC vibrating clitoral stimulator. Company executives/founders Jules Jordan and Kimberly Faubel introduced the pleasure device to the public in early 2017, receiving rave reviews and euphoric reaction. Since its release, the MIMIC has been featured at Cosmopolitan.com, Gizmodo.com,MarieClaire.com and Glamour.com.
Director/Producer Jordan is well-known for his quality adult entertainment productions, while Faubel brings 14 years of product knowledge, sales and marketing experience to the company, with an intense focus on sexual wellness and personal enjoyment. "With a strong history in the adult pleasure industry," says Faubel, "our experience drives our passion to create products that serve a purpose through their design, and can be enjoyed by anyone."
MIMIC is available in Europe via Eropartner and EDC Wholesale, in Australia via AAPD and Excite Logistics, in the U.K. through ABS Holdings, Stag Shop in Canada, and available through choice distributors within the United States.
Comments are closed.