Contest: Pick the Winners of the 2017 AVN Awards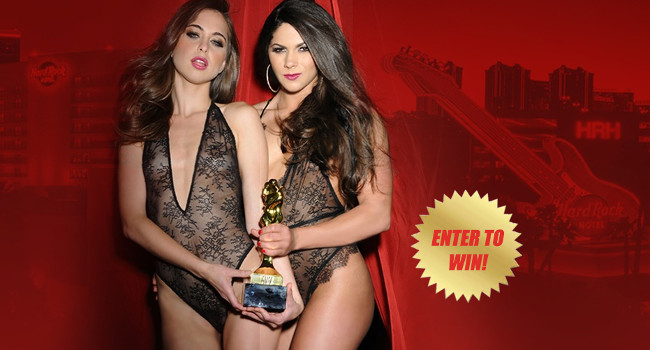 LAS VEGAS – During the 2017 AVN Awards Show in Las Vegas on Jan. 21, the biggest stars in the XXX biz will honor the best among them and hopefully go home with a few new trophies for their mantels. The show promises to be a tremendous event filled with glitz, glamour and scores of beautiful starlets.
Fans who can't attend can share in some of the evening's events thanks to a contest hosted by adult review site RogReviews.com. The "Pick the Winners: 2017 AVN Awards Contest" allows fans to fill out a 15-category ballot with the stars, directors and movies they think will walk away with the coveted hardware.
While co-hosts Riley Reid and Aspen Rae oversee the on-stage proceedings and pass out trophies to the winners, contestants can follow along at home and see how many picks they were able to predict. The entrant with the most correct answers on his or her ballot will win a grand prize package supplied by contest sponsor Fleshbot.
"Getting to give awards picks like a professional porn critic should be something that avid porn fans would enjoy doing," Fleshbot Editor Holly Kingstown said. "I was very proud that Fleshbot readers won two of the top three spots in the last of these contests that Fleshbot sponsored [for the 2016 XRCO Awards], and I fully expect that Fleshbot readers will win a substantial chunk of the DVDs that are up for grabs. Do your research on picking those winners at Fleshbot and in our store, shop.Fleshbot.com."
The Pick the Winners Contest series, which started with the 2016 AVN Awards, has proved popular.
"It is always fun to see if you can predict the winners of an award show," said RogReviews owner Roger Pipe. "It is even fun for me as a voting member to see if I can figure out who my colleagues voted for. The contest is a great opportunity for fans to play along at home. It's sort of like fantasy football for porn fans."
The contest is open now, and entries will be accepted until the AVN Awards Show begins. Winners will be announced Jan. 22.
A grand prize package including 25 XXX DVDS from Fleshbot will be awarded to the person who submits the top-scoring ballot.
For complete rules and to enter the 2016 AVN Awards Pick the Winners Contest, click here.
Comments are closed.