CzechCash coming with something spectacular!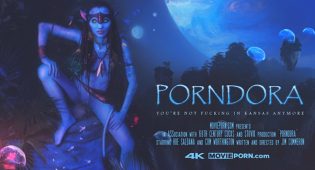 CZECHCASH.com has just launched their brand new website and, boy, it's something you will want to see.
The Prague based company hired Hollywood professionals for costumes and special effects and spent crazy amounts on sets, just to bring you MOVIEPORN.com. The content of the site toys with the ideas we all have while watching a mainstream movie: "Why don't they get down to it now?"
MOVIEPORN picks the biggest blockbusters, the movies we all like and recreates them in "a slightly more exciting" tone. The viewers can finally stop dreaming about sex scenes with their favorite characters and move right to watching them.
Seeing the sets and costumes indicates how much preparation, effort and time goes into filming of each scene, as well as into creating a punny title. Let me mention a few – Porndora (the planet Pandora from Avatar), Cock Raider (geeky wet dreams with Lara Croft finally come true), MatrixXx and many more. The production of CzechCash.com is improving with every video, just wait to see the special effects.
The CEO of the company states: "We want to further develop our production and offer our clients high quality movies. Movieporn.com is the first step in a new direction. It's the first, but definitely not the last step, as we are currently coming up with more ideas how to perfect this site. You can expect big things here!"
All the movies come in 4K, you can watch them on screen of any size, always in perfect quality. In other words, you will feel like you're in a cinema! And if you want to push your experience even further, get ready for the movies in VR. Stop being a spectator, become a participant.
If you like movies, if you enjoy adult videos of high quality or if you have ever been annoyed by a movie sex scene cut in the best moment, this is the site for you. 10/10 movie critics recommends!
Comments are closed.