DatingPartner Offers €10 PPS & Lifetime Revenue with "Eu[ro]phoria"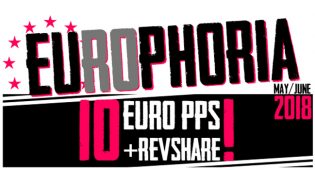 CYBERSPACE  – Anyone working in the adult dating industry knows DatingPartner (part of TrafficPartner.com) has been a household name within the European and International adult dating space for over 15 years. So, if the company decides to roll out "Eu[ro]phoria", which is the name of the current bonus program, from May 1 – June 30, 2018, all their partners and those that strive to get into the affiliate business should take note. DatingPartner offers €10 PPS and revenue share on top!
Starting with the first of May, webmasters will find an individual and appropriately named campaign on www.datingpartner.com. If you're region does not celebrate Labor Day or you simply can't take a breather, time can be used instead to update old links and websites with fresh ads or layouts for better conversion possibilities. Naturally, top converting material is made available under the menu item "Hot Selection" on the company's website.
"For most parts of the world the first of May is reserved for labor day. Anyone who runs their own business most likely can't or won't afford taking even a single day off," a company spokesperson said. "We thought this bonus option is the perfect sign of gratitude to our longstanding business partners and an amazing entry-point-offer for new affiliates at the same time! Thus we created "Eu[ro]phoria" and we're pretty sure ten euro on top of our lifetime revenue share will make it worth your while."
Running a business independently, especially within the depths of the internet, is a very demanding task. Accordingly, DatingPartner wants to give back to global players in the form of its latest bonus program starting May 1st, 2018.
Visit www.datingpartner.com to access the program now.
Comments are closed.