First DDF Awards to Name 'Ultimate Sex Goddess'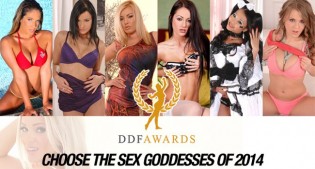 BUDAPEST, Hungary – The first-ever DDF Awards competition launched Friday, offering fans the opportunity to help name the Ultimate Sex Goddess 2014.
In the first round, fans will determine a 10th nominee to join the nine already named in each of six categories: Glamour Sex Goddess, Hardcore Sex Goddess, Busty Sex Goddess, Foot Fetish Sex Goddess, BDSM Sex Goddess and Newcomer Sex Goddess. Fans may make their nominations online through Sept. 14.
In addition to qualifying to compete for the big award — the crowning of Ultimate Sex Goddess 2014 — category winners will be featured in the 2015 DDF Network Calendar and on the company's websites throughout the coming year.
The Ultimate Sex Goddess will receive a cash prize along with a trip to France, where she will be shot in exclusive scenes and be treated to lots of fun, according to a DDF spokesman.
"Affiliates will also be able to use this contest as a tool to drive traffic and push their conversion rates to the limits," said DDF spokesman Paul Acevedo. "It's been quite some time since the team has wanted to showcase the girls that make DDF Network possible, and finally it can be presented with class.
"Take part in the fun, and help your dream girls grab that top spot!" he added.
For more information or to participate in the voting, visit DDFAwards.com.
Comments are closed.