Dominatrix Countess Diamond Launches Revamped Website Designed by Outriders Design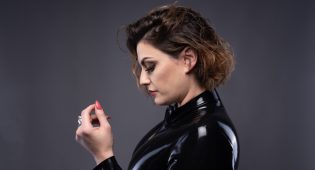 Countess Diamond, a professional dominatrix based in Bristol, is excited to announce the launch of her new brand and website, designed by Rylan Lynch from Outriders Design and featuring photography from Jamie Mahon. The new website showcases Countess Diamond's unique new services including chastity training, financial control and wellness coaching.
The Countess' intimate services and her dominant persona have been captured in the luxury branding that she and Outriders Design collaborated to create. According to Ryan Lynch from Outriders Design, "Stereotypical BDSM branding can easily fall into one of two territories: grim and dark or cheap and cheesy. In order to break away from convention, Countess Diamond wanted a brand toolkit that was uniquely HERS: sophisticated but rebellious, moody but not gothic, occult but not Halloween. What better way to draw in new clients than with branding rooted in mystery and seduction?"
The new website offers a sleek, modern design that perfectly encapsulates Countess Diamond's unique brand identity. Clients can easily learn more about the Countess's services, view her gallery of stunning images, and contact her for bookings. The new site is fully responsive, making it accessible and easy to use across all devices.
Countess Diamond is thrilled to launch her new brand and website and is confident that it will help her to reach new clients and continue to provide the highest quality of services to her existing clientele. For more information, please visit Countess Diamond.
Comments are closed.