Emily Adaire Drops Holiday-Themed Content & More to Entertain Her Fans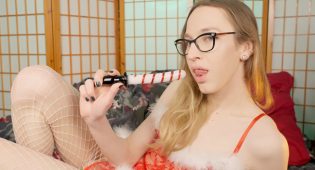 German trans girl cam model, creator, adult performer, and art school dropout Emily Adaire has a new threesome video for Insatiable Pictures on PinkLabel.tv, a new full-length Christmas special she produced, and another Christmas special available on Grooby's UK Tgirls.
With the holidays in full swing, Emily Adaire's fans can celebrate with her with must-see content, including two Christmas specials and an exclusive new scene. "Deep Learning" is Emily's new scene available exclusively for Insatiable Pictures on PinkLabel.tv. The scene is all about teacher-student role play between Manon Praline and Loren Aprile. Once the ladies see Emily spying on them, it becomes an extended fisting session. Directed by Torri Lisek, the 15-minute scene is available to stream or own at Pinklabel TV.
Emily has just debuted a free full-length solo video that's a Christmas special that opens with her wearing sexy red and white lingerie with fishnets, thanking her co-stars from her projects this year and fans for their support. Watch for free on Pornhub and make sure like and subscribe at Pornhub.
And earlier this year, Grooby premiered her Christmas special, "A Belated Christmas from Emily," so her worldwide fans could enjoy it all year long. But now that the holiday is upon us, you definitely want to watch naughty girl Emily unwrap herself. She didn't get all the presents she wanted, but she did get a glass candy stick. Emily removes her holiday-themed outfit, rips her fishnets, and fucks herself with a magical stick for an intense orgasm. Watch the scene and trailer at UK Tgirls.
"There's nothing like ending 2022 on a high note with 2 Christmas specials and a new teacher-student roleplay scene. I know fans will enjoy their holidays a little more after watching one, two, or all three of my scenes. It's the best way I can say Merry Christmas," says Emily Adaire.
To interview Emily Adaire for your site, publication, or show, contact Erika Icon of The Rub PR at erika@therubpr.com.
Comments are closed.