Empyrion Media offers Only Fans content creators & all adult industry workers a new recurring revenue stream.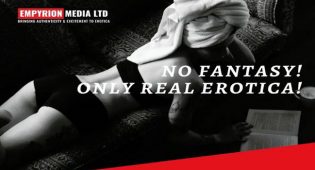 UK-based multimedia publishing company, Empyrion Media, is offering Only Fans content creators and other adult industry workers, the opportunity to generate a recurring revenue stream for minimal effort.  
Although Only Fans has made a decision to cancel its ban on adult content, which is sure to have led to a drop in content creators' income and demand for their services, it has shown that content creators should always diversify their income streams and means of content delivery.
Empyrion Media does not operate the same service or business model as Only Fans but it does operate in the same industry, the adult industry. Empyrion Media Ltd. is a multimedia publishing company based in the United Kingdom, but operating world-wide, which focuses on erotica eBooks, erotica audiobooks and erotica print books. 
Empyrion Media specialises in only publishing books written by authors who write about their own real sexual acts and experiences. Potential authors of Empyrion Media short story books do not need to be professional writers; but should be able to write exciting and very descriptive stories about their real sexual experiences. 
Empyrion Media also publishes guidebooks about various sex subjects such as the best sex parties and sex clubs in the USA. 
The company is recruiting people from all walks of life to submit their manuscripts (between 12,000 and 15,000 words) via a dedicated email address: authors@empyrionmedialtd.com
The company publishes ebook, audiobook and print versions of these manuscripts and markets them and the authors are paid a 50% monthly royalty in perpetuity.
Empyrion Media is also recruiting celebrities, online influencers, Instagram stars, YouTubers and in particular, Only Fans Content Creators and adult industry workers, to submit as many of their own real-life sex stories as they want, for publishing with Empyrion Media. These celebrity erotica writers can send their short stories to: celebrity@empyrionmedialtd.com
In return for Empyrion Media publishing ebook, audiobook and print book versions of these stories and jointly marketing the titles with the celebrity authors, the celebrity authors are paid monthly royalties of 75% by the company in perpetuity. The company states that the erotica ebook market is a dynamic and growing one and that their niche, erotica books written about real-life sex acts is a high-selling, revenue-generating niche within the erotica publishing industry
Empyrion Media actively markets its titles via various media. Empyrion Media books can be found on Amazon, Audible, Apple Books, Smashwords, Barnes & Noble, Kobo, Scribd and many more book platforms worldwide.
In order to avoid disappointment and rejection of manuscripts, prospective authors are advised to download and read some of the erotica titles from one of Empyrion Media's prolific authors, E.H.Watson from his Amazon page in order to understand the kind of content Empyrion Media is looking for: 
https://amazon.com/author/ehwatson 
The company reminds potential authors that all manuscripts submitted should be between 12,000 and 15,000 words and submitted in Microsoft Word format.
Comments are closed.