Ethan Joy: A Day in the Life of a Cam Model
After his latest glitter photo set, it's not difficult to see why people call Ethan Joy "The Golden Boy." His looks have played a major role in his crushing success on cam.
"I used to be a professional personal trainer," he said. "My life was the gym I worked out in and where I got my clients from."
According to Joy, he was super-cute growing up, but really skinny. "I always loved Ronnie Coleman, the bodybuilder," he said. "It doesn't mean I want to look like him, but I admire his dedication and the way he sees life. I wanted to have the same confidence he has, so I became a fitness trainer."
Like every other kind of life, the gym life comes with its own peaks and valleys and doldrums.
"You'd think you meet new and interesting people [in the gym environment]," Joy said. "You do, but not every day, and you are mostly stuck with your customers and members."
One day, a man approached Joy in the gym. Joy had seen him many times before. The man looked good, had a great smile and attitude, and always dressed really well. He and Joy started talking, and the conversation eventually turned to camming.
"That was it for me — the moment my life changed," Joy said.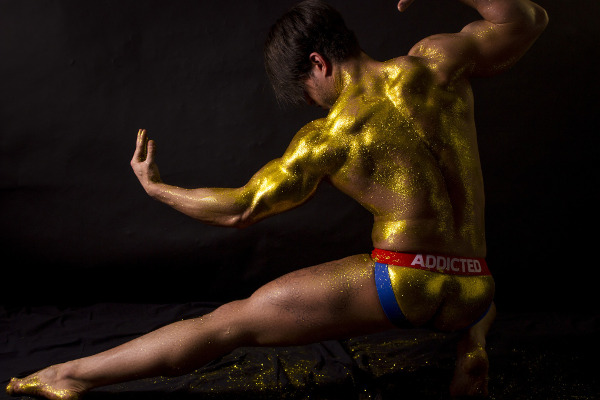 Joy began working for Studio20Men in November 2016, when the space first opened. Like many men would, he felt a little discombobulated by the concentrated attention from members and clients when he first got online. The atmosphere took some getting used to, he said.
"I was clumsy in the beginning," Joy said. "We — guys — are not used to the amount of attention a female cam model gets in her everyday life. When the first man told me I was beautiful, I started laughing because I didn't feel comfortable."
As part of learning the mechanics of his new job, Joy experienced an interesting walk in someone else's shoes.
"Everyone thinks that guys are so macho and outgoing," Joy said. "But believe me, ladies, when we're put on the spot we blush worse than anyone.
"The life of a male cam model might seem easier than a female cam model's life, but the pressure is bigger," he continued. "Plus, women are already used to getting waxed, trimmed, plucked and tanned. We men are just getting used to these barbaric customs."
Now approaching his sixth month on the job, Joy said he feels like he's hitting his stride.
"The first month, I wanted to quit 1,000 times," he said. "It wasn't because I wasn't making money; it was just the idea that someone looks at me and has sexy thought in his or her head. I know how to deal with this in my everyday life, but it was weird as hell at the beginning.
"Now I've got it, though," he added. "I'm confident, and I like being watched. It's sexy to feel wanted."
Learning the ropes at a new job takes time, and managing the mental and emotional adjustments that come from being on the "observed" end of a highly viewed window can be tough, especially for a person as in-demand as Joy, but he's come through with flying colors.
And a day in his life? Not too different from his trainer days, except for a few adjustments.
"A day in my life starts with a protein shake and some push ups," he said. "Then I go to the studio, I take breaks and I work out. Sometimes I work out on cam. It's fun, and it's a fun way to do your workout. I even have people that do the exercises with me."
As far as lifestyle, Joy said he keeps it healthy.
"I try to get as much rest as I need," he said. "That's why I don't go out to clubs or parties. I always eat clean and never drink alcohol."
Ultimately, being on cam has provided Joy with an enhanced version of the life he was leading before … except with a major bump to what he earned as a trainer.
"I think that if you want to be happy you have to spend your life doing what you like, and I'm lucky enough to have found a job where I do what I like," he said. "I get money for it, I am admired and I have a great team that works with me."
He added, "Overall, I can say that Ethan from April 2017 is the best version of Ethan yet, and I can't wait to see the what life has prepared for me next."
Find Joy on Twitter at @EthanJoyOff and on Flirt4Free here.
Comments are closed.