Gonzo UK producers 'British Bukkake Productions' streets their latest DVD title 'Bukkake-Loving Blondes 2'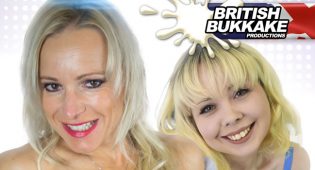 Following up from the successful earlier title in the series 'Bukkake-Loving Blondes 2' features more hot British blondes sucking cock and taking facials.
The 6-scene feature shows a number of hot models including Tara Spades and Cherry English. Dutch cum slut Linda Lush also brings her own inimitable style to things along with hard-bodied Italian newcomer Sarah Slave.
"Gentlemen don't always prefer blondes, but you'll see blondes certainly suck more dick!" says Director and Producer Robin Banks, adding "There's some pretty wild stuff too with Linda Lush gargling with cum and a superb gangbang with Cherry English, April Paisley and Sarah Slave. Can't wait to get those three together again!"
'Bukkake-Loving Blondes 2' features Tara Spades, Cherry English, April Paisley with Linda Lush, Kelly Myers and Isabella Bangs, and introduces Sarah Slave.
Contact British Bukkake Productions at;
email: admin@splatbukkake.xxx
twitter: @splatbukkake
For DVD sales, contact exclusive distributor:
Erigo Distribution Ltd, 25A Lyon Road, Hersham, Surrey, KT12 3PU
email: sales@erigogroup.com
tel: +44 (0)1932 219 800
For licensing and broadcast opportunities, contact Julian at:
Optime Strategies Ltd
email: julian.becker@optime-strategies.com
tel: +44 (0)870 005 6770
Comments are closed.