Introducting Our Brand New Site LifePornStories.com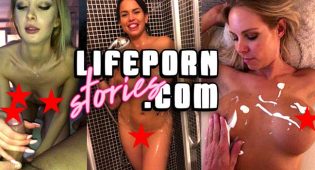 The producers standing behind CzechAV.com just announced the launch of their brand new project – LifePornStories. Once again, the authors of Perverse Family, HorrorPorn and dozens  other daring projects claim to come up with something you haven't seen yet.
LifePornStories is the first site with vertically shot POV porn ever. The target audience is clear – the smartphone users, but you can access the site via your computer as well. The LPS site is already packed with dozens of videos, all of them authentic, with girls from the adult entertainment industry. And there are many more videos to come soon.
The concept is easy, yet with a big potential: you are invited to take a peek into an everyday life of your favourite adult actresses and social networks models, to see them out of their jobs, in their casual environment. Go shopping with them, enjoy a sauna or whatever they do when they are off the stage.
The video content is balanced, you will get your portion of erotica as well as the everyday reality of porn stars. The site offers a brand new player which makes watching the videos more comfortable and enjoyable.
Never seen before.
Comments are closed.