Isabelle Deltore and VRB Make Clear: Roomates Share Secrets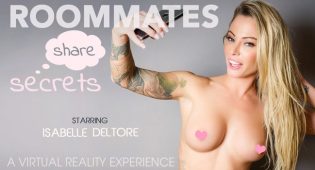 It is usually really cool to have a roommate – excluding these rare cases in which he or she turns out to be a total asshole, and the only thing you can think about is to move out to some other apartment as soon as possible. In the newest virtual reality adult movie made by one of the premium VR porn videos' makers, VR Bangers, the situation is going to be quite opposite, though – in the Roommates Share Secrets VR porn film you are about to have the best (and sexiest) roommate in your entire life!
Having a kinky roommate is a common scenario among porn fantasies, but it has been rarely seen in between the virtual reality adult experiences. Virtual Reality Bangers, who always try to be in the lead of being innovative, have just recently decided to change that in their newest VR porn scene – one of the few virtual reality porn films available in stunning 6K ultra high definition resolution. With help of incredibly beautiful Isabelle Deltore, Bangers decided to show all their members how awesome it could be to have one the sexiest VR pornstarsin the world as a flatmate.
"As it turns out, most of us had a roomie at least once in our lives," says Alex Nash, the producer of VR Bangers. "Perhaps you do not have a brother or sister, and you have never been living in a frat house of boarding school, but it is highly possibly that you went to a summer camp or grouping at some point of your being – meaning that you had to, at least for few days, live with someone in one room.And what if it turned out that the person is a horny and sexy VR pornstar? What would you do? That is exactly the question that fueled this newest VR porn movie of ours."
Sincewithin this VR porn fantasy Isabelle will not become your girlfriend, but just a title roommate, getting to her panties is not going to be that easy. Fortunately, VR Bangers took care of a really… fortunate course of action, giving all their members a one-of-a-kind opportunity to make a deal with this hot pornstar, and effectively fuck her behind her BF's back. And what do we mean by that? You will have to watch this newest VR porn movie to find that outyourself!
"It is gonna take some effort to fuck Isabelle inside of this VR porn movie," Nash explains. "We do like to make our virtual reality adult movies somehow realistic, and fucking your roomie – no matter how slutty she is, and whether she is a VR pornstar or not – would never be easy. Since I do not want to spoil the fun for our followers, let's just say that every viewer of this scene will have to make a very profitable bargain with the girl – and she is the one who is going to pay with something else than cash."
You can watch this VR porn movie in 3D 180°anytime you want by going over here. And if you'd like to view some other VR Bangers' productions in HD, 4K or 6K UHD, visit the makers' main page here.
Comments are closed.