Kiiroo Launches Natalia Starr 'Feel Star' Personal Stroker for KEON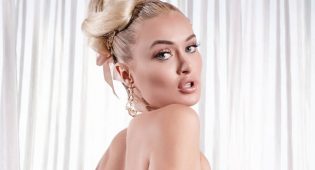 Kiiroo is set to launch its first collection of personalized stroker sleeves, 'Feel Star', based on the intimate molds of some of the world's most tantalizing models, the Feel Stars – created specifically to support the brand's bold new 
KEON
 automated pleasure device.
Gorgeous Natalia Starr is the newest 'Feel Star' to get up close and personal with fans, offering texturized sleeves that brilliantly recreate her warm, welcoming orifice – interactively stroking in perfect synchronicity with the user to mimic a real-life visual and tactile sensation that takes excitement to unimagined heights.
"The Kiiroo 'Feel Star' along with the brilliant KEON is the perfect way to feel closer to me while enjoying my every move – it's the next step in futuristic tech for fulfilling your needs when you can't have someone close to you," said Starr. "I'm so proud and excited to be chosen to represent the company's brilliantly innovative specialty line of interactive products."
Each of the custom-made inner canals, bumps and ridges are consciously designed by Kiiroo's talented craftsmen to perfectly accommodate adventurous KEON users in bringing to life the most realistic and authentic personal encounters possible.
"Fans of these Stars are in for a 3rd dimensional treat when they get their hands on our new 'Feel Star' Collection, offering a one-of-a-kind interactive automated masturbation experience – instead of just seeing and hearing, now you can FEEL your favorite star," says Kiiroo CEO Toon Timmermans. "Each stroker gives you the opportunity to not only feel your favorite star but feel the actual sensation of her moving on top of you too."
To find out more about going interactive with 'Feel Star' and getting in sync with your favorite star and KEON, visit 
Kiiroo
.
Comments are closed.