Krystal Webb's Backdoor Experience in Virtual Reality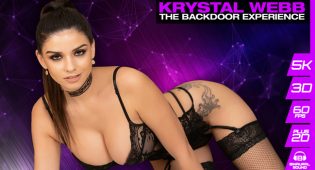 Imagine a world where it's not only your birthday everyday, but your extra special XXX birthday gift is your super hot girlfriend's mind-blowing solo masturbation show for your eyes only. And it's not just any masturbation show, not on DDFNetwork VR. Knowing just how much you love to grab and spank her curvy ass and fantasize about penetrating it, she decides to gift you with her very first anal masturbation show as well. This is the epic close to life immersive experience you will get when you watch "The Backdoor Experience" starring British glamour pornstar Krystal Webb as your gorgeous kinky girlfriend on DDF Network's virtual reality porn dedicated site DDFNetwork VR.
The eye-popping, jaw-dropping VR premium porn video is shot in 5K 3D 60fps, so it will feel like your face is right up against the busty bombshell's perfect 30DDD enhanced tits or her delicious derriere. You'll definitely want that up close and personal view when she showcases her first ventures into her tight behind. And with the added Binaural Sound, it will truly sound like she is whispering in her sultry voice, "Tonight I want to be your dirty little slut" right in your ears.
It's precisely with this kind of seduction that Krystal Webb has entranced DDF Network members since she debuted on their DDFBusty site back in 2011. The Playboy model has now shot 19 scenes across the DDF Network, this being her second on DDFNetwork VR. Her first virtual reality production, "Long Distance Lover" was also a first ever exclusive for DDF, and was one of the top viewed scenes in 2018. One look at the sexy Milf in action, and you'll understand why.
Now you can enjoy your birthday everyday and with Krystal Webb in any way, in 3D virtual reality on DDFNetwork VR or in traditional 2D format on their solo premium porn site 1By-Day, courtesy of DDF Network.
Comments are closed.