LiveJasmin Launches Top Models Contest With Astonishing Prizes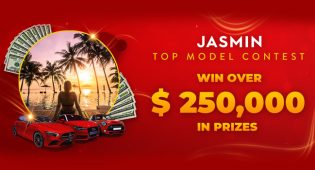 LiveJasmin is delighted to announce the launch of a new contest for its successful and hard-working models, to celebrate their dedication of pioneering the development of its ever-growing platform. LiveJasmin created this opportunity for models to win prizes of over $250,000 value and provide them with a platform to increase their member base and strengthen their relationships with them. 
To win the Top Models contest, models must compete and collect the greatest number of points before December 31st  of this year. Points are collected when members spend credits on models' content, whether they are online or offline, so the more content, the better. However, being active and engaging on LiveJasmin's exclusive features such as Private Chat, Videocalls, and Messaging will generate more chances for the models to convert credits into points for the contest.  
"LiveJasmin's popular contests draw more attention and traffic to the models, gathering several hundreds of winning models to give them opportunities to grow. We are establishing a new tradition of the yearly Top Model contest from this year onwards, offering incredible prizes to the winners. We are proud to work with some of the best models in the industry and this contest will leverage their ongoing efforts," said Zsolt Theiss-Balazs, Chief Product Officer. 
LiveJasmin is pleased to be the first website to offer its models prestigious and unique prizes in our historic contest. Our amazing first-place award is a $100,000 cash prize that the top model with the most points will walk away with. The second-place prize is a high-end car worth $30,000, followed by the third-place prize of a luxury vacation worth $10,000. The top 20 models overall will also win an all-inclusive paid trip to sunny Ibiza. Additionally, 10 lucky models in the top 100 ranking will be selected randomly to receive $5,000 gift cards for luxury brands.   
We look forward to announcing our winners in January at the Top Models Awards ceremony.  
Comments are closed.