Motorbunny Revs for 2018 Venus Berlin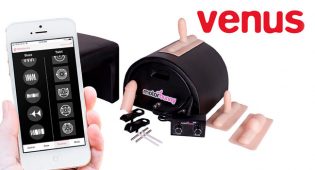 Motorbunny, the makers of the motorized ride-on-top vibrator for men and women, with wireless Internet control, will be on exhibit at 2018 Venus Berlin from October 11 to 14 at Messe Berlin. The Motorbunny booth will be located in hall 20, booth 18. Attendees of the sex show are invited to demo the product and its controls.
The expo brings together adult stars, top adult studios, content producers and members of the adult industry throughout Europe and the U.S. along with a variety of adult novelty brands and manufacturers. The event includes a kink area for fetish enthusiasts, along with seminars, workshops, live entertainment as well as product launches, speakers, food and more.
"We are pleased to attend Venus Berlin and join with our European partners and colleagues for this exciting event," said Craig Mewbourne, CMO of Motorbunny. "It's a great opportunity to showcase Motorbunny, its unique capabilities, and attachments to the European market."
Media members and industry professionals are invited to visit the Motorbunny booth located in hall 20 at booth 18 and meet company executives for product demos, the latest in product news and more. For registration and ticket information, click Venus Berln. 
Motorbunny is the industry's leading saddle-style vibrator made for men and women. Its sturdy construction, innovative design, and affordable price have firmly positioned it among the most popular adult products today. Motorbunny is pushing technological advances as well, the wireless LINK Controller, coupled with a new LINK app, lets users control the various speeds and frequency of the "buzz" and "twirl" functions over the Internet from their mobile phone or tablet.
Motorbunny was nominated for Best Pleasure Product Manufacturer – Small for the 2018 AVN Awards and Boutique Pleasure Products Company of the Year for the 2018 XBIZ Awards. It was named Outstanding Powered Product at the 2017 O Awards. As the industry-leading ride-on-top vibrator that is both affordable and easy to use, the Motorbunny offers a wide variety of attachments and accessories to heighten sensation for men and women.
Comments are closed.