PascalsSubsluts releases "Breathless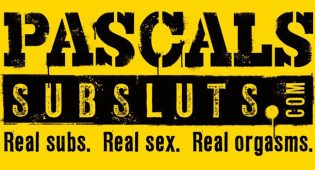 PascalsSubsluts releases "Breathless," their most shocking DVD to date. "Breathless" features the leading Subslutswith a breath-play fetish; they prefer to reach sexual climax through erotic asphyxiation. Producer Andy Baxter explains:
"It doesn't take a lot for girls to melt in the hands of our leading man Pascal White. But for some, when his strong hands close in around their soft, tender necks and start to squeeze, and their heads rush and their bodies quiver, the ecstasy of their sexual surrender knows no equal. And if you don't believe me, just check out the four beauties on display here. The tighter he grips, the harder they drip. They're going to totally take your breath away."
"Breathless" stars Piggy Mouth, Arielle Aquinas, Madison Stuart and Rhiannon Ryder. The colorful and bratty Piggy Mouth has the tables turned as Pascal brings her to heel. Lovechild Arielle Aquainas is reunited with her long-lost daddy for a bit of taboo role play. Shy girl Madison Stuart blossoms when she's pushed beyond her limits. And skinny tart Rhiannon Ryder indulges a crush for Pascal at the end of a leash.
"Breathless" follows PascalsSubsluts' critically acclaimed previous release, "Big Girls Don't Cry 3," that won the 2018 XBIZ Europa award for Best Fetish Movie. This latest release joins a well-endowed library of award-winning titles available through Exile Distribution.
For sales, broadcast and foreign market inquiries, call (818) 576-9464 or e-mail howard@exiledist.com.
To get interviews, scene trailers and extras, visit Pascals Subsluts!
Comments are closed.