PJUR thanks customers for participating in the first Digital Days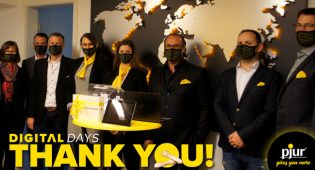 The first pjur Digital Days (October 14-16, 2020, Online Event) are over and a success in several ways: More than 300 customers and partners from over 42 nations participated. Over 70 customer appointments were held, laying the foundations for 2021. "We would like to thank all customers who have been loyal to us at eroFame for years and who visited the virtual stand this year. With their participation, but especially with their (video) contributions on expert topics and their creative congratulations, they have made a significant contribution to the success of the Digital Days. Thank you very much for that", says Alexander Giebel enthusiastically. Customer conversations take place digitally The virtual eroFame booth served as a hub for customer appointments and discussions with partners on five continents. Teams from Sales, Marketing and PR took part in the more than 70 customer meetings. Impressions and feedback from the participants
The event page has been updated and now shows some impressions of the digital trade fair and also continues to make the customer videos available on the virtual world map. According to the motto "After the Digital Days is before the Digital Days" we kindly ask for feedback! All registered participants will receive an email with a connected questionnaire, asking for your feedback on the Digital Days.
"We want to be a pioneer and try new things. And of course, we want to continuously improve in order to provide our customers with the best offer on the market," Alexander the Giebel summarizes pjur's strategy.
More information about pjur: www.pjurlove.com
Comments are closed.