pjur Launches #LoveIsLove Campaign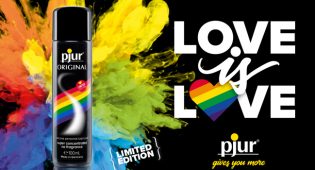 pjur is celebrating diversity with a special limitededition product. The pjur ORIGINAL Rainbow edition that features a rainbow on the label symbolising love, acceptance and tolerance is now available in stores. The Love is Love campaign marks pjur's support of love, tolerance and diversity. It aims to highlight that a fulfilled sex life means different things to different people – and this is something one should celebrate.
The campaign puts the spotlight firmly on love. Everyone deserves love. Everyone should have the freedom to create the love life they want. Love should be freely definable, regardless of age, gender, sexual orientation, relationship status, preferences or abilities. Share Your Story: Your (love) story under the rainbow.
At the heart of the campaign is the "Share Your Story" initiative, that wants to make (love) stories from all corners visible. Everyone can share their story to encourage others – might be about their first kiss, a hidden fantasy or a coming out. All those stories should reflect the diversity of love. Love comes in all kinds of forms and doesn't have to look or feel a given way to be fulfilling. The pjur ORIGINAL Rainbow edition.
The cult product from pjur features a colourful, eye-catching rainbow on the label that is impossible to overlook. Just like pjur ORIGINAL, it is a premium silicone-based personal lubricant. The formula provides extra-long-lasting lubrication and leaves the skin feeling great, not sticky. It is also very effective – a little goes a long way. The silicone-based personal lubricant is a universal companion for erotic massages, vaginal and anal intercourse and masturbation.
Personal lubricant helps increase moisture levels in the intimate area. Everyone should feel confident to use the personal lubricant that matches their individual love life.
Comments are closed.