Pjur Love Gives You More Attention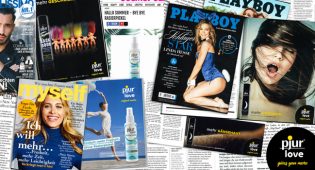 Next week sees the return of eroFame in Hanover – another milestone marking the progression of the year. In fact, there are only a few more sleeps until the Christmas trading period starts. This is the perfect time for pjur to assess how the "pjur love – gives you more" campaign has progressed so far. The major annual campaign included adverts and advertorials in some of the world's best-selling magazines such as Playboy, GQ, Cosmopolitan and jolie. A large number of these measures were initiated in the summer months and were extremely successful: "We saw a significant rise in visitors to our own website and shops, and above all to the businesses and online shops of our customers. The feedback on our B2C campaigns from pjur dealers is positive across the board," explains Michael Bart, Head of Global Marketing & Online Marketing.
The adverts and advertorials have already reached over five million potential new customers in Germany, Austria and Switzerland alone. A number of advertising partnerships with Glamour and desired.de are still planned for 2018 and so demand is expected to remain strong, especially for pjur ORIGINAL, pjur BACK DOOR Relaxing Anal Glide and pjur med AFTER SHAVE Spray, which will be the key focus products in these ads.
"Customers who used the PoS materials such as posters and flyers for our "gives you more" campaign have benefitted most of all from our investment in the B2C target group. Dealers who still haven't got their hands on these materials can contact their pjur contact partner at any time as the new slogan will definitely stay for the future," concludes Michael Bart.
You can find out more about pjur and the "gives you more" campaign at Pjur Love.
Comments are closed.