Pjur Love Gives You More PoS Support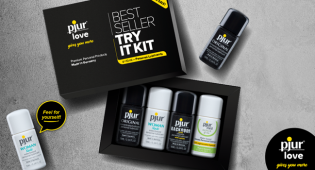 In line with its annual campaign bearing the motto "pjur love – gives you more", the pjur group is now offering extra-special sales support for vendors in erotic stores who are still unfamiliar with the best-selling products from the Luxemburg-based company: The free pjur Sample Kit contains the products pjur ORIGINAL, pjur BACK DOOR Silicone Anal Glide, pjur med REPAIR glide and pjur WOMAN Nude. They come in premium 10 ml bottles, designed as replicas of the 100 ml versions. The kit also includes in-depth product information and an exclusive pjur ORIGINAL fridge magnet. "This gives vendors in erotic stores the chance to try some of pjur's most popular products themselves and experience the quality and added value first hand," explains Michael Bart, Head of Global Marketing & Online Marketing at pjur.
The kits will be unveiled at eroFame in October 2018. There will be a small number of kits on site that can be distributed on request. The company will start shipping the kits in Europe after the show. Sample kits for the US are still in production. Shipping there will commence in several weeks. "Any retailer or employee interested in receiving a kit should contact our sales team. The number of kits is limited. We therefore recommend that you request your personal kit soon as this is a one-off, free sales support: At pjur, we don't just talk about premium quality, we let vendors experience it for themselves so they can share their experiences with customers and give them even better advice," concludes Michael Bart.
Comments are closed.