pjur "Nordics Edition" now permanently available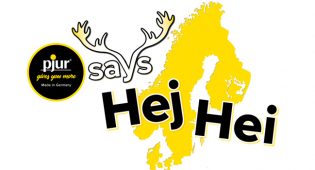 The "pjur Nordics Edition", which made its debut in August 2020, is now permanently available in the intimate product manufacturer's portfolio. Ten pjur bestsellers were specifically designed for the Nordic markets (Sweden, Finland, Norway and Denmark) and contain the respective national languages, as well as English, on the label.
We are pleased to be able to serve the steadily growing pjur fan base in the Nordic countries even better. That's why our most popular pjur products are now permanently available with labels in the Scandinavian languages. Familiar pjur quality meets locally adapted labels", says Stefan Daniel, Senior Key Account Manager Sales at pjur.
This addition to the pjur portfolio allows all pjur customers to serve their customers in the Nordics region with targeted products. The selected pjur range contains information in the following languages: Swedish, Finnish, Danish, Norwegian and English.
pjur Nordics range:
• Specifically targeted for Nordic countries
• 10 SKUs of pjur best-selling products (ORIGINAL, AQUA, AQUA Panthenol, WOMAN,
WOMAN Aqua, WOMAN Nude, BACK DOOR Relaxing, BACK DOOR Moisturising, med
Clean Spray)
• Languages on the back label: Swedish, Finnish, Danish, Norwegian and English
• Made in Germany
• Immediately ready to order for all pjur customers
Comments are closed.