NEW Product on Masturbation Month!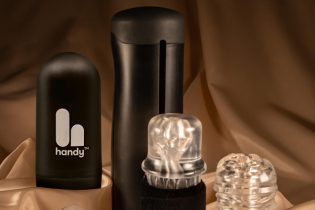 For Masturbation May, Norwegian sextech startup Sweet Tech has launched a brand new collection of masturbation sleeves dubbed the Dream Collection, specially designed to be used with their cutting edge automatic stroker Handy. The sleeves are now available to buy on their website (ships worldwide).
Handy is leading the way in the interactive stroker game, with an XBIZ Europa award nomination for innovative sex toy of the year, around 60,000 sold worldwide since its launch in 2019, 2,500 unique devices connecting to their online services (video synchronization and remote control) daily in 2022.  The elegant and practical design of Handy means that it can be used with a wide variety of sleeves, including those from other brands, making it a uniquely customizable sex toy for penis owners compared to other toys on the market.
The Dream Collection sleeves will step up Handy's immersive video synchronization capabilities, allowing users to choose exactly what type of sensation they would like to pair with video content.
Consisting of three sleeves – Dream Lips, Dream Lotus, Dream Touch – the Dream collection is designed to mimic the sensations of oral sex, vaginal intercourse, and a handjob. This collection is based on concepts voted for – and tried and tested – by their engaged user community.
Due to complex motor control algorithms in its firmware, Handy can precisely match movements on screen for an incredibly true-to-life sensation. Users can also select from a growing list of partner adult content sites with ready-to-sync video content in both standard and VR formats, making this truly the most futuristic masturbation experience available right now.
Masturbation May Deal: Buy Handy and get 1 Dream sleeve for free with code MAYDREAMS. Only available from 5th May until 31st May 2022.
Handy is available worldwide on as The Handy ($199).
Comments are closed.