Sabien DeMonia Releases ManyVids Series Inspired by Euphoria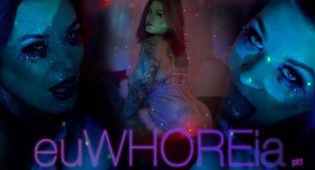 Eastern European tatted, busty, red-haired vixen, content creator, fetish model, adult star, and entrepreneur Sabien DeMonia has a brand-new five-part series, EurWHOREia, available exclusively on her ManyVids.
Inspired by the hit HBO show "Euphoria," "EurWHOREia," takes you to a place of love and friendship of a different sort, the carnal kind. The first scene is a boy/girl BJ scene titled "Deep Throat." The almost 13-minute cinematic-style video is shot in POV, so you can look into Sabien's eyes and let her suck you like no one else before.
Each month, Sabien will be releasing a new scene from the series exclusive to ManyVids. Other videos will be girl/girl, a threesome, a boy/girl/girl, culminating in an unforgettable group sex scene.
"This could be one of my biggest projects I've made! I'm so excited about the possibilities and living up to the title of the series. I plan to put it on some other platforms, once the series has debuted on ManyVids. So pay for your porn and purchase the entire series," says Sabien DeMonia.
Get the first scene from"EurWHOREia," "Deep Throat" at  manyvids.com/Video/3445863/EupWHOREia-DEEPTHROAT. And while you're there, pick up some of Sabien's other videos at 50% off for a limited time.
To interview Sabien DeMonia for your site, publication, or show, contact Erika Icon of The Rub PR at erika@therubpr.com.
Comments are closed.