Sabien DeMonia's Fans Can Now Get Closer to Her with Branded Merch on Fangear.vip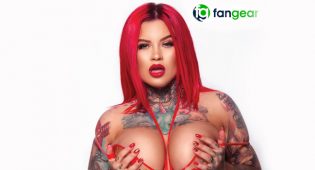 Eastern European tatted, busty, red-haired vixen, content creator, fetish model, adult star, and entrepreneur Sabien DeMonia is the latest all-star model to offer her branded merch on Fangear.vip. Fans can now get closer to her by purchasing her exclusive, high-quality collection.
Sabien DeMonia's worldwide fans have been asking for more of her branded merch. Now, their dreams have become a reality with the launch of her high-quality products on Fangear.vip. Sabien has struck a partnership with Fangear.vip and they have an incredible offering of her branded merch. This includes cell phone cases for iPhones and Galaxy, dog tags, magnets, mugs, coasters, money clips, tabletop photos, water bottles, and shot glasses. Each item has six photo options to choose from to make your mech even more customizable. There are also three posters available, and fans can buy them and choose to have them personally autographed for an additional price. And this fall, Sabien will debut her 2023 calendars.
"My fans have been asking for more merch, but I wanted to offer them the highest quality merch, and Fangear.vip definitely delivers on that. My brand is too important not to offer my fans the best. Fangear.vip and I have come up with an incredible offering, and my fans are going to want it all! I can't wait to release my 2023 calendar later this year. Plus, I will have a lot of my merch available at the tradeshows I'm appearing at this year," says Sabien DeMonia.
See Sabien's current line-up of Fangear.vip branded merch at Fangear.
For updates on Sabien's upcoming new gear and other projects she's working on, make sure to follow her on IG @sabiendemonia and get a free subscription to her content on Pornhub. Recently, she made some milestones on both platforms. Sabien has over 100k followers on The Gram, and 25k subscribers to her porn-star verified Pornhub.
To interview Sabien DeMonia for your site, publication, or show, contact Erika Icon of The Rub PR at erika@therubpr.com.
Comments are closed.