The Sex Consulant Training Program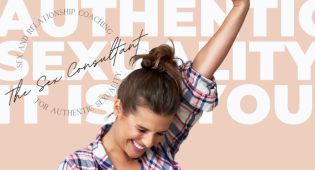 Ness Cooper Clinical Sexologist and founder of The Sex Consultant a training program for professionals working in human sexuality has put together two new live and interactive courses.
The Sex Consultant was set-up to help fill a gap in further education, particularly within the UK, where courses in Human Sexuality are limited.
"There are a few providers out there offering courses. Many still gatekeep access to them, meaning that unless you have a particular membership or perquisite, you can't take them to further your knowledge and career without these. I set-up The Sex Consultant, as a way to offer accessible training. Due to gatekeeping, I have spent thousands over the years to receive the training I have, as I've had to take a muddled route where lump sums of money for larger courses weren't possible for me. Due to my background and experience of homelessness and sex work, I know how hard it can be to get qualifications, and that's why I want to make this knowledge accessible to sex workers with an interest in human sexuality." Says Ness.
The two courses aim to share expert knowledge that has taken years to develop. Whilst targeted at those with a therapy background in mind, they can be helpful for professionals or individuals with other backgrounds, including sexual health nurses, sex coaches, sex and relationship experts, educators, adult industry content creators, sex toy brand copywriters, charity workers, and more.
"The aim is to provide an integrated approach to all teaching, as the field of human sexuality requires both a medical and holistic approach to support people. The Sex Consultant courses plan to give a nuanced look into sex and relationships, whilst also not gatekeeping theory and research whilst being progressive with share discussion."
Over the years Ness has worked with multiple sex toy brands, charities, and other organizations. She has done talks on human sexuality and sex education at the UEA and has even acted as a consultant on curriculum. Ness regularly works as an expert for the press when it comes to answering questions about sex and relationships.
Courses:
Sex Work in the Therapy Room (Eventbrite) Not only will this course look into the laws around sex work, decimalization, and more. It will also look into factors such as sex work as entrepreneurship and the stresses it can lead to. This 8 hour course will run on two days, the 24th of April and 25t of April.
Talking about Sex Tech in Therapy (Eventbrite) Learn about more than just sex toy types and anatomy, but also take a deep dive into the psychosexual factors that may be benefited from sex toy use. Also, learn about navigating stigma and shame around sex toy use, and receive a free ebook workbook to use with your clients or even yourself! This is a 2 hour course which will run on the 5th of May.
Comments are closed.