Stunning Trio of New Scenes from CzechVR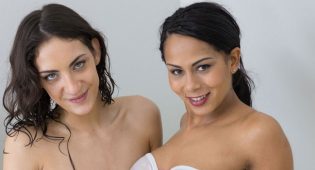 VENICE, CA – It's another big week for virtual reality coming out of one of the world's finest production houses, Czech VR! The company has three new virtual reality scenes, one for each of its VR sites: CzechVR.com, CzechVRFetish.com and CzechVRCasting.com.
First up, a filthy fetish outing on CzechVRFetish(www.CzechVRFetish.com) starring Miky Love and Isabella Christin. This dirty duo of beautiful babes shares a common bathroom and sometimes things get tricky. This time, Miky has to go but Isabella isn't leaving. Miky tries to peel Isabella away, but it's like she's glued to the seat!
What to do? How about dropping her robe and threatening to piss all over Bella if she won't get up? A 30-minute pissing match ensues and it's one for the ages. If you're into pretty girls battling it out with pee, "Lesbo Pissing Fun" is your dream come true!
Next up is CzechVR Casting(www.CzechVRCasting.com), where every week a naughty newbie is revealed. This week it's Charlotte Johnson, a slender young babe who is eager to show the world that she really knows how to fuck and suck in "First-Timer Cumming Twice!" She talks about herself for a bit then offers herself up as your personal sex toy. There is no saying no! Charlotte loves the dick and cums twice – an amazing feat for a first porn session!
And then from CzechVR(www.czechvr.com) this week we get "After Shopping Spree" starring Italian porno goddess Vittoria Dolce. This stunner from Firenze loves to shop till she drops and lucky for you, every time she brings home something sexy for you to enjoy.
This time it's sexy underwear and damn right that is a huge turn-on for you. This girl knows how to get what she wants! Now fuck her like she's your own personal sex toy!
Comments are closed.