Violet Myers is Gettin' Ready For You in 6K Ultra HD Virtual Reality!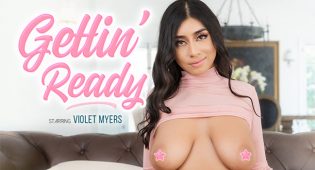 Do you believe in friendship between woman and man? Or rather, do you think it is possible to be friends with an attractive, sexy girl and not feel the need to have sex with her? One of the professional VR porn movies' makers, VR Bangers – the producers known worldwide for their service of "VRB Time Capsule", which allows you to preserve your sexuality through virtual reality – are more than sure that you need sex to maintain optimal relations with every single of your sexy female friends, and they are going to prove you that in their latest VR porn scene called Gettin' Ready.
In Gettin' Ready VR porn movie – a virtual reality porn experience with super-hot Violet Myers with extremely mesmerizing huge natural breasts – the girl is going to become one of your best friends, who – for the needs of this VR porn fantasy – is in dire need of your help and needs your assistance with "Gettin' Ready" for her super important date with a guy of her dreams. You should also remember that this VR porn scene has been produced in 6K ultra high definition virtual reality, which is the highest currently available quality standard and also a trademark of the VR Bangers' professionalism.
The point is that even though this vixen is really sexy, she does not have too much of experience with fucking and sucking cocks, and she really wants to practice on your dick before giving herself in to the guy she really cares about and truly do not want to mess it up. We know that it may be really hard to believe that girl as attractive as Violet would not have a huge knowledge on how to fuck properly – but remember that this is just a virtual reality porn fantasy, so wear your VR headset and enjoy the moment just like you would have been there with her for real.
"Fucking your best, sexy female friend is a thing that most of us have always wanted to do, but in the real life we usually all end up inside of a 'friend zone'," admits Roman Lit, the Producer of Virtual Reality Bangers. "Fortunately, VR porn is something more and it always aims to upgrade everything that could have happened to you in the real life – that is why we encourage all our members to wear their VR headsets and dive right inside of this brand new VR porn video. After all, Violet needs a whole lot of practice and she is super-eager to perfect her dick sucking and fucking skills before going on her important date – so brace yourself for a lot of attempts!"
To watch this "friendly" VR porn scene and enjoy one of the best evenings that you have ever had in your entire life, head straight to this VR porn video's page over here.
Comments are closed.