Watch the VR Bangers' and Jeanie Marie Sullivan's XXX Parody of the Black Widow Movie from Marvel Cinematic Universe!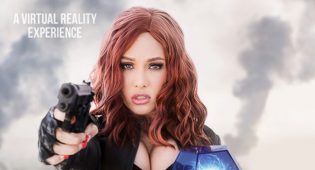 Even if you are not the biggest fan of movies from Marvel Cinematic Universe and, in general, comics and this kind of content, you must have at least heard about the upcoming premiere of the Black Widow movie – a huge Hollywood production that is all about one of the sexiest redhead characters from the universe played by beautiful Scarlett Johansson in original series. One of the best premium producers of VR porn videos in the world, VR Bangers – the company known and well-acknowledged for their epic VR porn parodies – have just announced that they are introducing their own interpretation of this Hollywood movie – and that they are releasing it even before the legitimate premiere, as it has been delayed because of the COVID-19.
Black Widow 2020 (A XXX Parody) is a VR porn video that was originally meant to be released at the same time with the Hollywood premiere, but since the huge production has been pushed ahead because of the worldwide pandemic, VR Bangers chose not to wait any minute longer and give the fans their latest virtual reality porn scene upfront – to allow them to watch it and thenlater, in the cinemas, compare it with the original film.
Inside of this brand-new VR porn movie we are all going to learn the history behind Agent Natasha Romanoff – the Black Widow – who, for the needs of this VR porn fantasy is going to be impersonated by a VR porn star Jeanie Marie Sullivan. Jeanie will become the VR Bangers' super-sexy agent trying to release herself from being captured – while using her intricate and rather "unusual" methods to steal the attention of every single of VRB's fans wearing VR headset and becoming her interrogator inside of this immersive virtual reality experience in up to 6K ultra high definition. Since she is one of the best female secret agents on the entire planet, her effectiveness is 100% and it will not be different this time, either.
"Interrogating a real Black Widow could end up really drastic to all our ever-horny fans – and that is for sure – but thankfully, our version of Agent Romanoff is going to be a little bit more… playful," admits Roman Lit, the Producer of Virtual Reality Bangers. "We love creating new VR porn parodies of popular Hollywood movies and every time we believe that there is a good occasion to create a top-quality XXX parody like our award-winning Wonder Woman VR porn scene, we are just doing it – and I believe that our latest release could too become a huge hit in no time!"
To watch this extreme VR porn scene with a hot redhead and to enjoy one of the best evenings that you have ever had in your entire life, head straight to this VR porn video's page over here.
And if you would like to find something more about VR Bangers and/or watch yet another of many of their VR porn movies in up to 6K ultra high definition 3D VR, make sure to visit their main page here.
Comments are closed.