World's Biggest Adult VR Site Showcases Stunning New G/G Anal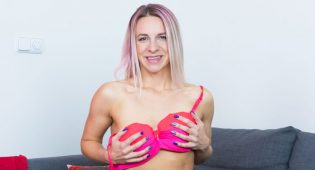 VENICE, CA – Winter is cumming! Those cold, long winter nights are about to feel downright tropical, thanks to the three core sites that make up CzechVR. The popular VR site, which boasts the biggest selection of adult VR content in the world today, announced that they are releasing three fantastic new scenes this week!
The flagship site, Czech VR (www.czechvr.com), has a scorching new girl/girl anal scene, featuring sexy French mademoiselle Ania Kinski and Russian stunner Selvaggia Babe. In "Strap-On For Anal!," your girlfriend has finally decided to fulfill your wildest dream by hooking up with another girl for you. An amazing scene and one that literally fulfilled several dreams.
The hot new scene on Czech VR Casting (www.CzechVRCasting.com) this week features blonde Bianca Ferrero in her first-ever VR scene. At least the Czech beauty didn't have to go far! The highlight here is definitely the cowgirl. A most successful first attempt at VR that will leave you drooling for more!
Francesca DiCaprio stars in "You Just Got Laid!," which goes live this Saturday on Czech VR Fetish (www.CzechVRFetish.com). Things aren't going your way today: You just got laid off and you're just sitting around the house alone wondering what the hell you're going to do with your life. Maybe your girlfriend Francesca has some ideas….
All of the scenes are filmed in true Stereoscopic 3D.
Czech VR is made up of three main sites – Czech VR Casting, Czech VR Fetish and Czech VR. Membership to one grants access to the entire network. All sites are updated weekly. The network also includes six non-VR sites: Amateur Sex Teens, Bitch Stop, Czasting, Czech GFS, Czech VR and Gyno Violations. Access to all 9 sites can be had by buying a Mental Pass (https://www.mentalpass.com).  For more information visit https://www.czechvr.com, www.CzechVRCasting.com and www.CzechVRFetish.com.
SOCIAL: Twitter: @czechvr; Instagram: czechvrnetwork
PRESS/MEDIA CONTACT: Rising Star PR, info@risingstarpr.com, @RisingStarPR
OFFICIAL SITE: https://czechvr.com/
For more on Czech VR, visit http://risingstarpr.com/clients/czech-vr/.
Comments are closed.