14 Days of Love! Scarlet Lyone Launches Valentine's Celebration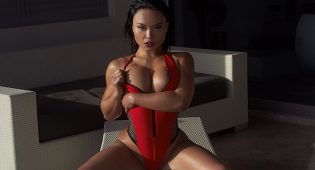 Curvy Asian Australian stunner Scarlet Lyone has been flooded with requests from new fans for more of her extraordinary content. The hottest girl down under is always happy to give her fans what they need and then some.
This morning Scarlet is happy to announce '14 days of Love' as a special way to give back to her fans and show the love this February. Starting on the first and running up through Valentine's Day, Lyone will release daily content exclusively on OnlyFans with a new, extended video release on February 14. Fans can bookmark her official OnlyFans site or follow her on Twitter and watch for her announcement that the latest scene is now live. It's all part of the sexy Valentine's Day fun that ends with Scarlet doing a live show on East Coast time on her OnlyFans!
"My audience on OnlyFans has been patiently waiting to see more content from me, so I am more than excited to be giving my viewers exactly what they want," said Scarlet. "What better way than in celebration of Valentine's Day? I will be giving back the love for 14 days with daily content and a live broadcast on February 14th.  I am looking so forward to meeting as many fans as possible when I go live.  Oh!  And did I mention a few surprises and giveaways that will be cumming along the way? Don't miss out!"
Stay tuned on Twitter @lyonescarlet  and OnlyFans Onlyfans.
Visit her ManyVids now at Manyvids.
Comments are closed.