Scarlet Lyone Bows New Hardcore Romeo Video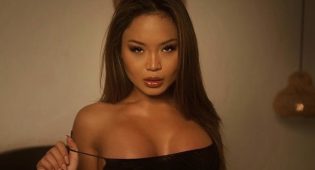 Since she first started, Scarlet Lyone has dropped a steady stream of steamy scenes for her fans – first on her site, then later on her platforms. This week the curvy Asian Australian beauty is at it again, with the release of her new 'HD Romeo/creampie' scene, which came out earlier today on her OnlyFans.  
"This week's release is a scene where I am begging to be fucked and filled by my master," explained Scarlet. "I've just woken up from a wet dream which leads to a hardcore session with a fuck machine as I'm bent over a stool. Every angle my fans want to see me in. Of course, this one had to be a HD scene! It's explicit and messy, I know my viewers are going to LOVE this!" 
Scarlet recently uncovered a new obsession, rating her fans! Don't miss your chance to join in the fun. Sign up today for her OnlyFans where you can also find all her incredible content including her new XXX lesbian scene Licking Out with 2022 Australian Adult Industry Awards Best Newcomer Porn Star Savannah Wolf. 
Visit OnlyFans and Scarlet's ManyVids store. 
Follow Scarlet on Twitter at @Scarletlyonex and on Instagram at @scarletcentrefold.  
Comments are closed.