4th Annual SHAFTA Nominations Revealed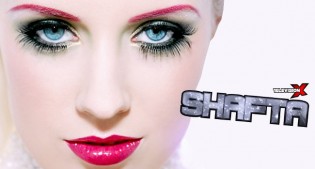 LONDON – Seventy performers, studios and productions compose the list of nominees for the fourth-annual SHAFTAs, to be presented during a gala ceremony Dec. 5 at Rise Superclub in London's Leicester Square.
The Soft and Hard Adult Film and Television Awards, organized by Television X, to recognize excellence in adult programming, have been dubbed "the UK Oscars of porn." According to a spokesperson for the British broadcaster, because the awards coincide with Television X's 18th anniversary this year, the ceremony will present a fairgrounds theme.
The 2013 nominees list reads like a who's who of adult entertainment, including veteran performers like Gilly Sampson and Charmaine Sinclair (who helped launch Television X in 1995) to newcomers Jess West and Samantha Bentley. Not to be outdone, the male talent among the nominees — including Omar, Bend Dover and Danny — also range from fresh meat to old pros. Collectively, the seven male nominees represent more than 110 years of experience in adult entertainment.
Two new categories appear on this year's nominations list: girl-girl and amateur series. One of the most eagerly anticipated awards, Most Outrageous Series, returns in 2013, filled with nominees from the GILF, gangbangs and transsexual genres.
On Nov. 2, Television X began a special broadcast series presenting all nominated films and scenes. The special broadcasts will continue throughout November in order to inform voters, who may cast their votes online at SHAFTA.xxx.
The 2013 SHAFTA nominees are:
Best Series
All New Ben Dover Show (Ben Dover)
Cathy Barry's Extreme Interracial (Pumpkin)
Come Together (Andy Ide)
Crank XXX (Kaizen XXX)
Layla Jade's Spunk Sucking Sluts (Essential)
Pervacious Mind of Angel Long (Pure XXX)
Adventures of Superdick (Ben Dover)
Best New Series
Angel Long's Gutter Sluts (Angel Long)
Freshers (Trifle)
Iron Lady Garden (Swank)
Jim and Lara's Pick 'n' Mix (Jim Slip)
Rubber Tales (Porcupine)
Scott's Slut Hunt (Adam Bearder)
Weird Science XXX (Kaizen XXX)
Most Outrageous Series
Bitch in a Box (Andy Ide)
Different Strokes (Portway)
Entry Level Whore (Macondo)
Freddie's Great British Granny Bang (Freddie's World)
Great British Gang Bang (Macondo)
Icky Sicky Mucky Mingers (Essential)
Mummy's Got Milk (Portway)
Best Girl Girl Series
Extreme Close Up (Foto Pete)
Katie K's Teen Rampage (Foto Pete)
Linsey Dawn McKenzie: I'm Back (Macondo)
Planet Nadia (Anna Span)
Strap-O-Gram Girls (Big Jim)
Tamara's Teenage Tarts (Portway)
Teresa Scott Unleashed (Jim Slip)
Best Amateur Series
Custard Tarts (Foto Pete)
Lara's UK Swingers (Jim Slip)
Liselle's Red Hot Recruits (Trifle)
Lizzy-Anne's Leg Sex (Lizzy Anne)
Northern Lad (Bobby Tupper)
Tanya Tate's Sex Tour of Ireland (Macondo)
The Swinging Scene (Nigel Night)
Best Loved Character
Ben Dover
Freddie and G
Jim Slip
Lara Latex
Omar
Shagnasty and Muttley
Superdick
Best MILF
Cathy Barry
Charmaine Sinclair
Gilly Sampson
Lara Latex
Linsey Dawn McKenzie
Rebecca More
Tanya Tate
Best New Starlet
Alyssa Divine
Brooklyn Blue
Crystal Coxxx
Jess West
Jessica Jenson
Samatha Bentley
Yuffie Yulan
Male Performer
Ben Dover
Danny D
Demetri
Jay Snake
Marino
Omar
Pascal White
Female Performer
Angel Long
Layla Jade
Lolly Badcock
Michelle B
Michelle Thorne
Stacey Lacey
Syren Sexton
Comments are closed.