Alexis Fawx Tries Her Luck with Singing Career in Front of aVirtual Reality Camera!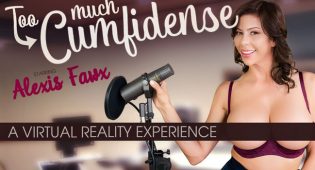 What does the singer's career and being a professional VR pornstar have in common? Not much? You could not be more wrong – and one of premium VR porn movies' makers, Virtual Reality Bangers, will prove that to you in their latest VR porn film in 6K ultra high definition. According to the VR Bangers, these two professions can be combined in a very pleasant way – and especially with the help of an actress equally talented and sexy as Alexis Fawx! This hot MILF did her best in the latest studio's VR porn fantasy and will once and for all validate that she is a multitalented person with many faces.
In the newest VRB's VR porn video called "Too Much CUMfidence", Alexis, the girl of your dreams, will try her luck with singing in front of the producer's microphone, yet since it will turn out that she is way more talented in other areas of her expertise, in no time she will stop paying attention to the mic, and work on another protruding rod – the one waiting for her in the pants of her sound engineer and audio producer.Every member of the VR Bangers' family can now become the lucky musician, as wearing a pair of VR goggles (and membership on VRBangers.com) are the only requirements to jump straight inside of this newest virtual reality porn experience in 3D 180° of overwhelming immersion.
After all, when you are a professional pornstar like Mrs. Fawx, having sex should not only be your profession, but also your hobby and passion – and if that is the case, you will be always looking for yet another opportunity to fuck an enormous dick. Since VR Bangers' male performers are known for their "gifted" nature and the girls working with the studio can never complain about sizes of any of those, this VR porn scene will not start a new music career for our sexy starlet – but will, however, help her develop her ongoing path in the adult industry.
"Have you ever wanted to check if your favorite VR pornstar can sing? Now, thanks to our latest VR porn video, you actually can! It is, as long you are one of the followers of super-hot Alexis Fawx," says XanderJones, the producer of Virtual Reality Bangers. "We let the girl sing and give it all to our mic, but although she was really distracted by the cock of our sound engineer, the audition ended early and it quickly turned into an immersive MILF VR porn fantasy. This is probably not a reason to complain, right?"
Everyone who is willing to dive inside of this VR porn movie in 6K ultra high definition to hear Alexis' sing with help of binaural sound system used by the producers, can do that by going over here.
And if you are interested in the makers work in general, make sure to visit their website here.
Comments are closed.