AmateurCommunity: Mainstream Media & Viral Attention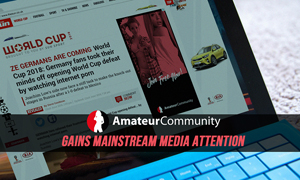 Netherlands – After serving a platform, for amateur/cam models and fans of adult entertainment alike, for more than 10 successful years, AmateurCommunity.com has decided to put efforts into the product's PR again. CamPartner.com Webmasters should be in a celebratory mood as AmateurCommunity's latest press release, focusing on ups and downs of logins during Germany's world cup games, has gained massive mainstream media attention and an increase in new potential users is expected.
It turned out that German football (soccer) fans were looking for adult fun on AmateurCommunity to cope with the team's loss against Mexico. "A variety of German sources, from big boulevard magazines such as Hamburg's MoPo, Munich's TZ or Berlin's Berliner Kurier, have embraced our revealing data," a spokesperson said. "Seeing that our community is dominantly DACH (Germany, Switzerland and Austria) driven , it is of crucial relevance to land mainstream media coverage. It's the perfect timing for CamPartner.com affiliates too, as we're rolling out our latest tech upgrade for landing pages as we speak – allowing not only hardcore, but also soft versions, which should suit the mainstream traffic effectively."
"Ze Germans are coming" has also seen international coverage by SPORTBible, The Sun and even several Asian, Greek or Croatian outlets. The news even went viral via the SPORTbible.com's 10 million likes strong fan page, gathering multiple thousand reactions and strongs shares. "Receiving mainstream coverage not only drives potential curiosity and makes for more organic searches, but getting a story viral with positive vibes all around – is pretty much priceless," a spokesperson added. "CamPartner.com webmasters and affiliates should be aware of this latest trend, update their ad material asap to profit from the press release and get the most out of the incoming traffic. Our new landing page tech has been built to provide an according tool for these kind of chances!"
CamPartner.com, AmateurCommunity.com's affiliate program, has recently rolled out new landing page technology. While detailed information will be shared at a later date, the company pointed out, that soft landing pages can be essential to high conversions from press or social media traffic. "The tech is already available," a company spokesperson said. "We strongly recommend our affiliates make use of the latest tech now to increase revenue margins. If you're not already signed up, it's the perfect time to give our tech a try and see for yourself."
Interested webmasters and affiliates can visit the website here: https://www.campartner.com.
Comments are closed.