Famous Cam Model And Singer Biggi Bardot Joins Amateurcommunity.com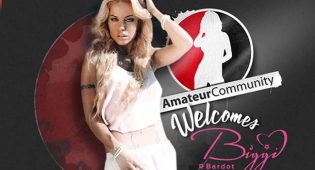 Netherlands – Amateurcommunity.com has announced that Biggi Bardot, one of Germany's first well-known cam models, has joined the site.
"We're happy that Biggi joined the ranks of the site's strong roster of nearly 30,000 amateur models and decided to become a part of Amateurcommunity.com", a spokesperson said. "I imagine that the daily increasing number of users will be very pleased to interact with and experience such a remarkable persona, as our site offers the best of all worlds to amateur models and members alike. Chats, videos, cams and images provide several areas that can be explored by legendary names like Biggi Bardot or curious content creators that want to dive into a sexy lifestyle with like-minded folks from around the world."
While the blonde powerhouse continues to tour Europe as pop singer, with such famous stages like the "Bierkönig" in Majorca, she always likes to return to her livestream audience for personal moments.
"I'm excited to expand my audience with amateurcommunity.com," Biggi Bardot said. "I've been in the industry for quite some years now and the broader a website's horizon, the larger chances are for you to do what you really desire and have further options at the same time. I'm rather into live interaction with my audience and like to stream with my cam when I'm not out there on tour singing. However, at times I'd like to just chat with fans though or upload videos. Amateurcommunity's services offer pretty much everything an amateur model could ask for and they have a great team that understands the needs of us girls. From general help to pro tips, so, it's really cool."
The website also stated that numbers of cam and amateurs models signing up with Amateurcommunity keep increasing on a global scale. "Naturally, there's a big portion of German amateur/cam models," a spokesperson said. "However, many of them are English speaking too and we're happy to see that more content creators from other countries are joining. The U.K., Russia or Poland for example. Obviously the audience and content creators are growing in size together, which is very exciting to see."
To get more information about amateurcommunity.com, feel free to contact the team: pr@amateurcommunity.com.
Comments are closed.