Anna Bell Peaks makes it rain with VR Bangers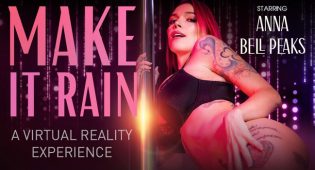 Regardless of whether it was at a bachelor party (yours or somebody's) or at a business meeting, most of us were at least once in the strip club – very often also called the "gentlemen's club". The girls in such places are incredibly sexy and know how to display their "assets" in front of male eyes, but most of the clubs have a basic rule that can spoil the pleasure of being in such spots. The principle is: no touching! For many of us, this reason is big enough never to appear again in one of these clubs, because the frustration caused by having so many beautiful dancers around, while not being able to touch them with even a small finger… is enormous. Fortunately, virtual reality comes to save a day.
In the latest VR porn movie created by some of the premium producers of adult movies in virtual reality, VR Bangers, this problem was taken into consideration and effectively resolved – in "Make it Rain" VR porn video, the makers decided to invite an extremely beautiful, tattooed porn actress, Anna Bell Peaks, to let her dance in front of members of their community equipped with one of the modern VR goggles on their heads. The thing is, that this one-of-a-kind striptease is somewhat more interesting than anything you have ever seen before, as Virtual Reality Bangers have once and for all got rid of the rule on the "untouchability" of the dancers. Actually, this time you are even welcome to touch…
"When you are shooting a VR porn movie like that, the choice of a female performer is probably the most important of all factors," says Xander Jones, the Producer of VR Bangers. "Not every VR porn star can dance sensually, so the chosen girl really had to be at least sufficient at stripping – we were very happy when we found out that Anna, with whom we have worked in the past already, had what it takes to fit in that role. The actress is one of the favorites of our audience, and our previous VR porn films with her are incredibly sought-after – being one of the most popular of our redhead VR pornstars, Mrs. Peaks has always been a right choice for us, and we believe that it was no different this time."
Since touching is not only permitted but also encouraged inside of this VR porn fantasy, a sensual striptease will in no time turn into a regular hardcore porn scene in virtual reality – after all, dancing is just a secondary skill of Anna's, and first of all she is a professional VR pornstar. The girl's sexy moves will put every fan of the VR Bangers' work into the right mood, to only minutes later make use of it accordingly while giving him head and riding his dick – and all of that in immersive VR in 6K UHD.
Watching this newest VR Bangers' VR porn scene is possible by going over here, and if you are interested in other VR Bangers' adult movies in virtual reality, head straight to their main page, here.
Comments are closed.